What's included
1 650 mAh or 1000 mAh, 3.7 Volt Battery
1 Pro-L, Pro-XL (2.2 atomizer) or Pro-L II Tank (1.8 atomizer)
1 Pro Variable USB Charger
1 Wall Charging Adapter
Instructions
Specs
Tank Capacity 1.5ml or 3ml
Battery Capacity 650mah or 1000mah
Additional Atomizers available in 1.8, 2.2, 2.5ohm sold in 5 packs
Pro-L Tank Length: 2.6 inches
Pro-XL Tank Length: 3.1 inches
Pro-L II Tank with removable driptip Length: 2.75 inches
Pro 650 mah battery length: 3.6 inches
Pro 1000 mah battery Length: 4.5 inches
USB Wall Charger Adaptor 100-240V Output
Charger Model :WRP08U-050050u
Your Pro Starter Kit can be used with the VaporFi Pro-L, Pro-XL, Platinum, Premium and Clear line of tanks.
Your Pro L and Pro XL tanks are recommended for use with the Pro and Pulse series batteries. If using with a Pro Variable battery or Rocket, we recommend using the Pro L or Pro XL 2.5 ohm atomizers.
Instructional manual available here.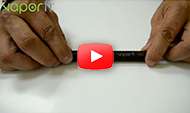 Close
What's the Right Level?
1.8% - Regular
1.2% - Light
0.6% - Ultra Light
0.3% - Drippin' Level
0.0% - No Nicotine
Newbies & Non-Drippers
We recommend that all newbies and non-drippers start off with 1.8%. This is the most comparable level to a traditional cigarette and will provide the best results for those just making the switch for the first time. We also offer other levels of nicotine, allowing you to truly customize your vaping experience. The nicotine level will directly affect your vaping experience and performance of your electronic cigarette. The term "throat hit" is commonly used to describe the intensity of your vape. As you experience with different nicotine levels, we suggest that you move slowly and do not make drastic jumps.
Drippers
When using high wattage devices commonly used for dripping, you will always want to cut down the nicotine strength that you would use with lower wattage devices. This is because sub-ohm and low-ohm coils allow your body to absorb the nicotine faster and more efficiently. Most drippers will use 0MG, 03MG or 06MG and on occasion a 12MG sub-ohm dripping.
As always, if you have any questions or concerns, please give us a call to speak to one of our friendly reps or visit one of our retail locations where we you can speak directly to one of our Associates.
Close
What is an Atomizer?
Atomizers are used to vaporize the e-liquid in your tank. They are consumables as they degrade with use and need to be replaced. The average atomizer will last 3-4 weeks but may last less depending on personal vaping habits. A fresh atomizer means a better vaping experience with more vapor and more flavor.
What's the difference in resistance levels?
1.8, 2.4, 2.8 are measures of the atomizer's resistance. In layman's terms it's a measure of power (1.8 = strongest, 2.4 = medium, 2.8 lowest). Increased power would mean more vapor, flavor and throat hit.
Why do I need more now?
Nothing stinks more than running out of fresh atomizers. You should always keep plenty of them handy.
Close
Tank Model
The new Pro-L II tank has a dual coil which maximizes vapor production and a removable drip tip which allows you to further customize your look.
Close
Battery Model
A variable battery allows you to choose between a range of power outputs to control vapor production. This is the best choice for richer juice taste.
Close
30-Day Money Back Guarantee
Whether or not you are the adventurous type, we never want to leave you feeling burned, so when you purchase any of our products, aside from e-liquids, keep calm knowing we have a 30-DAY MONEY BACK GUARANTEE. Don't be plagued by the "what-if's" if you want to try VaporFi products, just do it knowing you won't be forced to keep them if things don't work out.
After you purchase our products via this website, should you find that anything fails to satisfy you work properly, or just does not meet the expectations you had, give us a call and we'll handle it.
We are very committed to serving our customers, so we back our products up 100%. We are so sure you will love them and enjoy vaping with them, we have no problems refunding if there's a problem.
*This policy is for online purchases via VaporFi.com. For the return policy on purchases made at a VaporFi store, please contact individual store.