What is PG, Really?
Discover the many uses of propylene glycol and how it intensifies the taste of your vapor cig e-liquid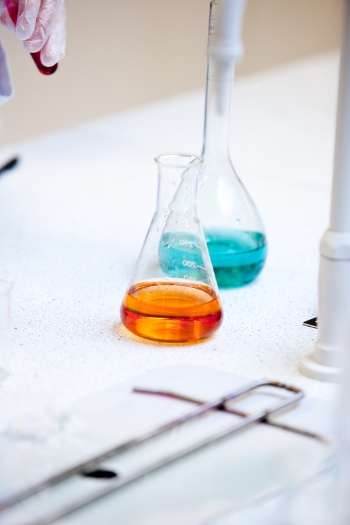 If you are a regular visitor to vaping websites and forums, or hang out with fellow vapor smokers, then you are probably well acquainted with the terms "PG" and "VG." You may already know that they are chemical bases in your e-liquid. Heck, you may even know that the acronyms stand for "propylene glycol" and "vegetable glycerin," respectively.

But what are they, really?

If you are debating whether to make the switch to vapor cigs as an alternative to traditional cigarettes, or if you already have, it is always a smart idea to know what exactly you are putting into your body.

For newbies, here is quick rundown: Most e-liquids are comprised of four ingredients—water, nicotine, flavorings and a PG or VG base. Some blends combine both PG and VG for optimum flavor intensity and vapor output. The first three ingredients don't really require an explanation, but PG and VG are less known and plenty of false rumors have arisen about them.

Interestingly, almost everyone—even non-vapor smokers—uses or consumes PG and VG on a regular basis. Of the two, PG is by far the most common base found in e-liquids, and that is what we'll cover here.

To learn more about VG, check out this corresponding piece in our learning center.
Uses of Propylene Glycol
PG was used commercially well before the invention of the first vapor cigarette. PG is an organic solvent—meaning it is naturally-occurring—and is colorless, odorless, clear, and has a faint sweet taste.
You can find PG in a lot of the food and hygiene products that are likely sitting around your home right now, some of which include:
Perfumes and colognes
Hand sanitizers
Toothpaste
Food dyes
Alcoholic drinks (wine, beer and liquor)
Deodorant sticks
Cosmetics
Non-toxic antifreeze
Cake mixes
Sodas
Salad dressing
And more…
Another handy application for PG is as an active ingredient in fog machines. So next time you're in the club or at a concert, you can thank propylene glycol for the cool atmospheric effect.

Similar to fog machines and asthma inhalers, the role of PG in vapor cigarettes is to help emulsify (mix) liquid ingredients that would otherwise not mix with each other. This process creates a stable fluid that is able to deliver vaporized nicotine when inhaled.

Propylene glycol also reduces the boiling point of liquid nicotine in order to allow vaporization to happen at a much lower temperature than what is required for a tobacco cigarette.

Apart from function, PG also serves a crucial role in the taste of your vapor cig. Since it is thinner than the VG alternative, propylene glycol gives users a stronger throat hit. The lower density of the liquid also means that gunk doesn't build up on the heating element of your vapor cigarette as fast as it does when thicker liquid is used.
Is It Safe?
Propylene glycol has been safely used as a non-active ingredient in cosmetics, pharmaceuticals and food products for over 50 years, and studies show that it has a very low degree of toxicity. As a result, the FDA* has classified PG as completely "safe for human consumption."
That said though, some vapor smokers do experience some minor reactions to PG-based liquid, such as a dry throat, muscle soreness, and odorous urine (more than usual). This is because PG is also a humectant, meaning it attracts moisture and can dry out your throat after use. Also, when metabolized by your body, PG quickly turns into lactic acid, which can make your muscles ache more than normal.

To offset these symptoms, it is advised that you drink more water than usual in order to flush the lactic acid from your system and soothe your throat. If side effects persist or worsen after a few days, you may be allergic to PG and you should try vaping VG-based e-liquids instead.
USP Grade E-Liquid
Not only is it important to know which ingredients are going into your body, but also the quality of those ingredients. At VaporFi, we sell only the best quality e-liquids that are made with only the best ingredients.

For example, when you buy e-liquid from us, here is what we promise you:
USP Grade Kosher ingredients
FDA* registered formulas
GRAS-approved e-liquids that are a step beyond food-grade
Diacetyl-free blends
Fresh ingredients mixed in our state-of-the-art manufacturing facility which operates under the strictest cGMP standards
Mix up your vapor smoking experience by trying one of our thousands of PG e-liquid blends.

Click the link above for more information about custom e-liquid, or continue browsing our blog and learning center resources.
* VaporFi products are not approved by the Food and Drug Administration ("FDA*") nor does the FDA* endorse or deem these products to be safe for use by consumers.
Close
30-Day Money Back Guarantee
This policy is for online purchases via VaporFi.com. For the return policy on purchases made at a VaporFi store, please contact individual store. Whether or not you are the adventurous type, we never want to leave you feeling burned, so when you purchase any of our products, aside from e-liquids, keep calm knowing we have a 30-DAY MONEY BACK GUARANTEE. Don't be plagued by the "what-if's" if you want to try VaporFi products, just do it knowing you won't be forced to keep them if things don't work out.
After you purchase our products, should you find that anything fails to satisfy you work properly, or just does not meet the expectations you had, give us a call and we'll handle it.
We are very committed to serving our customers, so we back our products up 100%. We are so sure you will love them and enjoy vaping with them, we have no problems refunding if there's a problem.