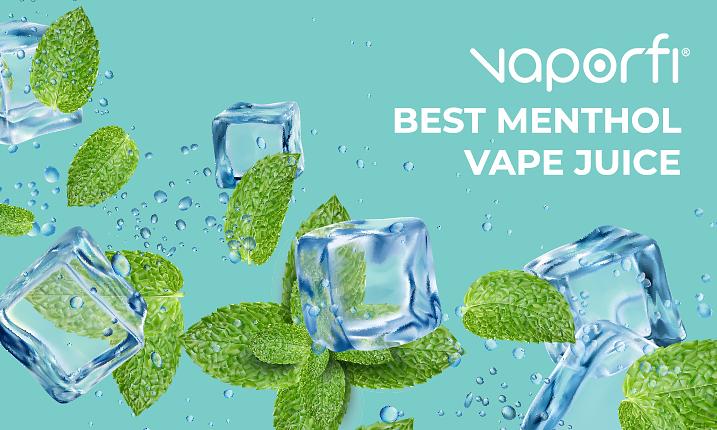 Building your vape juice collection can be one of the most enjoyable parts of your vaping hobby – after all, who doesn't like trying new flavors and discovering delicious new blends? With literally thousands of flavor options to choose from, there's virtually no end to the e-liquid fun. You could try a new flavor every week for years, and still never run out of choices.
If you're trying to accumulate a well-rounded collection of e-juice flavors, you'll probably want to hit all the major flavor categories, ranging from traditional to eclectic and simple to sweet. Menthol is a foundational flavor for any vaper, creating a minty-fresh vape experience that will leave you refreshed and rejuvenated. While the vaping community is often divided when it comes to flavors of the dessert or fruity variety, menthol is often one of the few blends just about anyone can agree on. The icy-cool flavor and deliciously simple mint taste is excellent on its own but also pairs well with a wide variety of other flavors to create uniquely tasty blends.
At VaporFi, we have more than thirty different varieties of menthol e-juice, so there's no shortage of ways to satisfy your craving for crisp mint. We've spun this refreshing flavor just about any way you can imagine, hoping to please the full spectrum of vaper taste buds. To help you find your perfect menthol match, we've put together this handy guide to menthol nicotine e-juices. We're breaking down what exactly it tastes like, why it's such a popular flavor category, and our top picks for the best menthol vape juices on the market.
What is Menthol?
Many people don't know that menthol is actually an organic substance that can be naturally found in the oils of peppermint and other mint plants. It can also be made using mint plants such as wild mint, taking on a crystalline or flake form. As you would probably expect from a substance originating from the mint plant, menthol has a fresh, minty flavor and often produces a cooling sensation.
Odds are, even if you've never tried menthol vape juice, you've encountered menthol in other everyday products. The deeply refreshing, icy-cold mint flavor of menthol is extremely useful in breath-fresheners like toothpaste and chewing gum and is sometimes used in skin and hair products for its cooling properties. It's also used in over-the-counter cold medicine, providing a pleasantly effective method for clearing out your head cold and reinvigorating your sense of energy.
You may also have experienced menthol in the form of old-school tobacco cigarettes. Many brands include a menthol flavoring in their formulation, and it's not uncommon to see highly popular cigarette companies produce both non-flavored and menthol-flavored options.
Why Do People Like Menthol Vape Juices?
What are the Benefits of Menthol Vape Juice?
Now that we've covered all the menthol basics, you might be wondering how it became such a commonly-used flavor in vape juices.
The easiest answer is that many vapers simply enjoy the crisp, fresh flavor that menthol offers. It lends itself perfectly to a refreshing vape session, working especially well as a midday boost or morning wake-up vape. You can find vape juices that incorporate a strong blast of menthol flavor, resulting in an icy-cool sensation when you inhale the vapor. Other juice blends use menthol in a smaller dose, acting as a complementary note of mintiness to add to other flavors. Overall, menthol is a highly versatile, likable flavor that's grown popular by the merits of its enjoyable taste.
That being said, there are other benefits of menthol vape juice you may not have considered. For vapers who are trying to kick an old smoking habit, menthol e-juice can offer a similar flavor experience to their old tobacco cigarettes. According to the U.S. Department of Health and Human Services, about 1 in every 4 cigarette packs purchased is of the menthol variety – so it makes sense that menthol e-juice would be so popular with former smokers.
With its many benefits, it's not surprising that menthol is included in so many of the most popular e-juices here at VaporFi. From high-end blends that combine menthol with an array of other flavors to the beloved classic mint juices, VaporFi customers consistently rate menthol vape juice as one of their favorite flavor options out there.
Top 10 Best Menthol Vape Juices
VaporFi has stocked our virtual shelves with a great assortment of menthol vape juices, with plenty of choices to satisfy your minty-fresh preferences. We took a look at customer ratings, VaporFi team favorites, and best-sellers to put together a quick list of the ten best menthol vape juices you can try today.
Menthol Freeze is one of our ultimate menthol classics, earning more than 500 positive customer reviews and counting. It's a timelessly minty-fresh flavor, offering an icy cold blast of flavor with every delicious vapor cloud. You'll feel the refreshing menthol sensation reach down into your lungs, breathing new life into your everyday vape sessions. Many vapers enjoy Menthol Freeze for early morning vape sessions, or as an enjoyable way to shake off a mid-afternoon slump. Try a 30 mL bottle or score the 60 mL option for a great value. You'll also be able to customize your flavor strength (go with one shot for mild mint flavor, two for a solidly enjoyable freeze, and three for an epic, iced-out experience), as well as your preferred nicotine strength and VG/PG ratio.
Sometimes, you just want the beautiful simplicity of a classic flavor you know and love, one that offers a delicious sense of familiarity. In those cases, Mighty Menthol will serve you well, coming in with its easily recognizable fresh flavor that's reminiscent of the perfect after-dinner mint. Former menthol cigarette lovers will also appreciate the icy cool blast of flavor, which offers all the authenticity of an old smoking hobby minus the smoke, tar, and ash. Mighty Menthol is a must for any vape juice collection, the perfect classic to always have on hand. It's particularly enjoyable as a post-meal vape, refreshing your flavor palette and giving you the boost you need to power through the day.
Forget peanut butter and jelly, tobacco and menthol are the real flavor match made in heaven. For a vape experience that will take you right back to your old-school cigarette days (without all the tar and smoke), Tobacco Menthol is a vape juice must-have. We've combined two of our most popular flavor blends, Mighty Menthol and American Red Tobacco, to create an all-star e-juice that's here to stay. Make sure you never run out of this flavor favorite with a great-value 60 mL bottle, customizing your e-juice according to your preferred flavor strength, nicotine level, and VG/PG ratio.
Buy Tobacco Menthol Flavor E-Liquid
Imagine the chilly, sweet sensation of biting into a strawberry ice pop, every bite packed with fruity goodness and ice-cold refreshment. That's exactly the experience we wanted to capture in our Strawberry Chill e-juice, and judging by its top-rated reviews, we succeeded. Strawberry Chill combines the sweet taste of perfectly ripe strawberries with the refreshing sensation of menthol, highlighting the best of both flavors and creating a truly enjoyable vape experience.
With more than 30,000 possible flavor combinations, our DIY Vape Juice tool makes it easy to put a menthol spin on just about anything. Choose up to three different flavors to combine in your bottle of e-juice, tweaking flavor strength, nicotine level, and VG/PG ratio to suit your vape style. You can get creative with your menthol experiments, pairing it up with fruit, dessert-inspired, tobacco, and other flavor profiles to design a one-of-a-kind vape that's 100 percent yours.
For lovers of the VaporFi Express e-cig, the Mighty Menthol Cartridges are an easy, convenient option for turning up the flavor level. Our classic Mighty Menthol e-juice has been incorporated into the user-friendly cartridges, which you can quickly install on your VaporFi Express with zero hassle. Plus, you can request your preferred nicotine level to ensure the ideal e-cig experience every time.
Buy Mighty Menthol E-Cig Cartridges!
The Mint Leaf SYN E-liquid by Pachamama
From acclaimed vape juice master blends Pachamama comes their incredible signature menthol e liquid, The Mint Leaf. Kick back and enjoy this cooling blend of smooth, refined, pure synthetic nicotine. A 30%/70% PG/VG ratio ensures huge, puffy, voluminous cloud production and you can choose between 3mg or 6mg of nicotine content per bottle. Snag yours today!
Buy The Mint Leaf SYN E-liquid by Pachamama
NTN Iced Grape Nic Salt by Vapetasia Killer Fruits
Vapetasia Killer Fruits has knocked it out of the park with this unreal grape menthol blend. Combine icy cold, refreshing menthol pack with freshly-picked grape taste and you have a winner that will delight your taste buds. A balanced 50%/50% PG/VG ratio is ideal for both mouth-watering flavor and solid cloud production. Try it today!
Buy NTN Iced Grape Nic Salt by Vapetasia Killer Fruits
Drops Menthol Synthetic Salt E-Liquid by Aqua
Want extremely satisfying nicotine content without the typically-associated harshness? Drops Menthol Synthetic Salt is the ticket! Choose between 35mg or 50mg of the silkiest nicotine you've ever experienced. Green apples, strawberries, oranges, and lemons combine with menthol in this truly unique and innovatively delicious nic salt vape juice. Try it for yourself and you won't look back!
Buy Drops Menthol Synthetic Salt E-Liquid by Aqua
The Berg Ice SYN E-liquid by Innevape
Take the ultimate chill pill with The Berg Ice from Innevape. Last but certainly not least on our list, this amazing e liquid combines blue raspberry with classic raspberry and menthol to fantastic effect. Want huge puffy clouds of berry menthol goodness? The 30%/70% PG/VG ratio will allow you to make epic clouds. Order your bottle and experience it for yourself now!
Buy The Berg Ice SYN E-liquid by Innevape
What Sets VaporFi E-Liquid Apart
When you're shopping for vape juice, you probably have a few key priorities in mind: quality flavor, safe ingredients, and good prices. VaporFi e-juice checks all those boxes and more, which is why we've become an industry favorite for premium vape juice blends. Here are just a few of the reasons VaporFi e-liquid is your best option:
Our fully-kosher vape juices are free of undesirable ingredients such as diacetyl and acetyl propionyl

All our e-liquids are made in an FDA-registered lab that adheres to the highest standards of quality and professionalism

All VaporFi flavorings have been GRAS approved and rated as food-grade, one step above other flavor substances usually used in e-juices

VaporFi formulations are FDA-registered and use the purest nicotine for optimal results
Why Buy From VaporFi
Maybe you've been shopping with VaporFi for years, or maybe you've just discovered our site recently. Whether you found us through a fellow vaper's recommendation, a random Internet search, or some other route, we're glad you made it – and we hope you're here to stay. At VaporFi, we work hard to make sure we offer our customers the best of everything, from high-quality vape devices and premium vape juice to unbeatable prices and top-notch customer service. We're vapers just like you, and our goal has always been to change the vape world for the better.
Stick with VaporFi and you'll enjoy great benefits like everyday free shipping, loyalty rewards, and always-changing sales and deals. Here, you can save money on the best brands and products in the business, upgrading your vape game without blowing your budget. Plus, you can learn all about vaping from our huge library of resources, blog posts, and product guides, so you can take your vape experience to the next level of enjoyment.
Still not sure whether VaporFi products are right for you? Contact our friendly customer support team and learn more about what sets us apart from every other vape retailer out there.