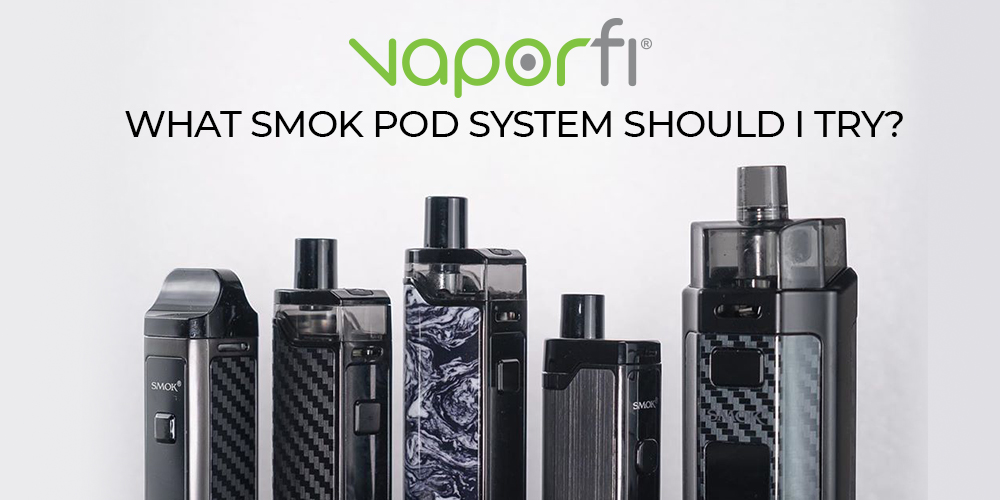 Decisions, Decisions, Decisions: SMOK Nord, Novo, or Pozz X?
Are you feeling a bit overwhelmed about which SMOK device to purchase and wondering what is the best SMOK vape for you? Fear not! This guide will walk you through the details and functionality of the SMOK Nord, Novo, and Pozz X so you can select the pod system that best suits your needs.
Rest assured though that you picked an excellent brand. SMOK has been on the vaping scene for 10 years and has an excellent reputation for its innovative technology, high-quality products, and popularity around the world.
Now, let's dive into the deets of the SMOK Nord, Novo, and Pozz X.
SMOK Nord 2
The SMOK Nord 2 is the most popular SMOK pod available, winning the VaporFi title of best pod system of 2020. The Nord 2 is known to combine the ease of a pod system with the high performance of more complex vape devices.
Its single button-triggered system makes it easy to operate so it's perfect for beginning vapers. However, more seasoned vapers can also enjoy the Nord because it packs a pretty strong punch for being in the pod system family.
Measuring at 95 x 30.5 x 20 mm, it's very portable, easily held in your hand, and stored in a pocket or handbag.
It holds 4.5 mL of e-juice, ranking it second on this list for juice capacity (the Pozz X holds the most). And its battery capacity is 1500 mAh which sets you up for long-lasting vaping sessions.
Uniquely, the Nord 2 has both a sub-ohm coil and a mouth-to-lung coil option, so you can adjust the device for the type of inhalation that you prefer.
And if you like a wide selection of color options, the SMOK Nord 2 has 9 to choose from, complete with SMOK's signature exterior cobra design.
SMOK Novo
The SMOK Novo is small but mighty. It's known for being one of the most sleek, portable systems out there while still delivering a generous inhale and rich-tasting mouthfeel of vapor.
It's the smallest on our list measuring at 88.3 x 24.3 x 14.3 mm allowing for inconspicuous vaping. And it easily slides into pockets or clutch purses.
When air is inhaled, the Novo automatically activates making it very easy to operate without an on/off button or fire key.
The Novo holds 2 mL of e juice and the upgraded version, SMOK Novo 3, has an increased battery strength of 800 mAh which is a relatively strong battery for the device size.
8 color options for the Novo are available, also featuring the cobra overlay as seen on the Nord.
SMOK Pozz X
Closing out our SMOK pod system list is the dynamic Pozz X. Offering a slightly more complex operation, this pod system might be best for someone looking for a more involved vaping experience.
Pozz X offers a strong performance with a widened air intake channel that provides an intense vapor flow and better overall taste.
It has a unique front screen that displays information about your device and your individual vaping habits such as:
Wattage
Voltage
Number of puffs
Time of each puff
Additionally, the center power button provides the following user control options:
Lock your device
Power off your device
Puff clearing option
With 1400 mAh, the Pozz X has the largest battery capacity on this list as well as the largest e-liquid capacity of 4.5 mL.
You can choose from 9 different color selections and a variety of texture patterns including a camouflage design.
So, Which SMOK Pod System is the Best for You?
Ask yourself the following questions:
How big do I want my device?
What do I want it to feel like in my hand?
How much e juice do I want my device to store?
What is my preferred battery life?
Do I want simple features or a device that is more complex and allows me to customize my vaping experience?
The great news is that you really can't go wrong. SMOK pod systems are the perfect option for those who don't want advanced mod tanks but aren't into disposable vapes.
Browse SMOK Pod Systems with VaporFi
Browse the SMOK Nord, Novo, and Pozz X on VaporFi's site, read SMOK pod vape reviews, and consider which features are best suited for your individual vape style.
Don't hesitate to contact VaporFi's support team with any questions. We're here to assist you and help you make the most out of your vape device investment.