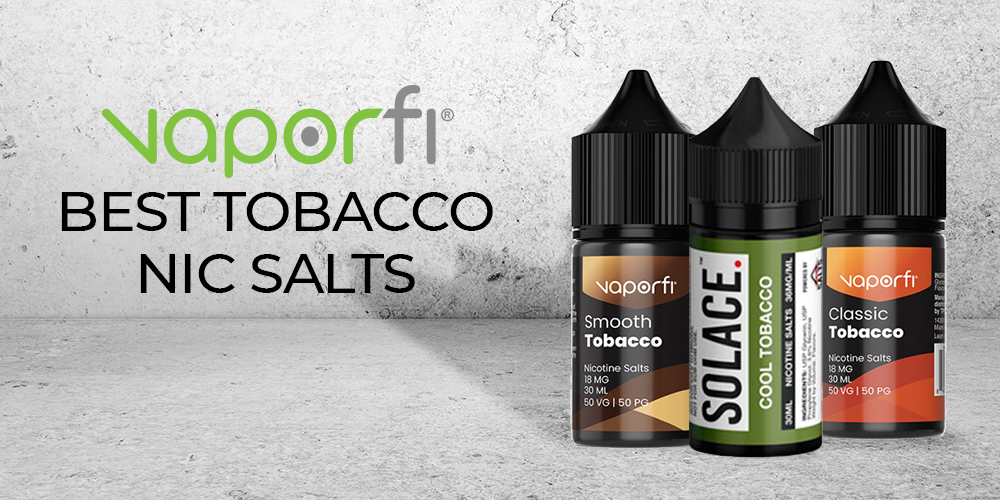 What Are Nic Salts?

When shopping liquids for your device, you've likely noticed that there are two different types of juices to choose from: the more common freebase nicotine e-liquid and nicotine salt juice (also referred to as nic salt juices).
In short, nic salt juices have higher levels of nicotine than regular e-liquids. And they're especially favorited among vapers because they offer a strong pull of nicotine without a harsh throat hit. This is because of the addition of benzoic or citric acid to nic salts which lowers the nicotine salt pH level. The experience of vaping with nic salts is smooth and packs the nicotine hit that many vapers are in search of.
Another advantage of nic salts is that because the hits are stronger, people generally purchase and use less juice. This can save you dollars and also make your device last longer because you may not be taking as many hits as you would with regular e-juice.
And with most nic salts, you get to choose the level of nicotine in your bottle.
However, nic salts are not to be used with high powered or complex devices. They are best vaporized through pod vapes and lower wattage devices.
What About Flavors?

There are tons of flavor options out there for nic salts - everything from fruit blends to dessert-inspired juices. If you're reading this you probably prefer simple, classic flavors like tobacco, menthol, and mint. Tastes like those never go out of style and there are awesome ones to chose from among nic salts. Read on for our suggestions of the best tobacco and menthol nic salts for you.
Best Tobacco Nic Salts

Classic Tobacco Nic Salt

VaporFi Classic Tobacco nic salt offers vapers bold, complex notes of tobacco. The iconic tobacco taste paired with the intense satisfaction of a nic salt juice is a combination not to be missed. It's perfect for those who love an authentic tobacco flavor, one that is mild and sweet. It's available in a 30 ml bottle with the option of 18, 36, or 48 mg of nicotine. It has a 50% PG (propylene glycol)/50% VG (vegetable glycerin) ratio.
Mighty Menthol Nic Salt

If you crave a refreshing, and powerful pull, then Mighty Menthol by VaporFi could be the ideal menthol salt nic juice for you. Strong mint with the nic salt hit is a super smooth and pleasant experience that will have you coming back for more. This juice is also available in a 30 ml bottle, with a 50% PG/50% VG ratio and with the option of 18, 36, and 48 mg of nicotine. There's really nothing like that fresh, clean menthol feeling.
Smooth Tobacco Nic Salt

Rounding out our flavor recommendation list is VaporFi's Smooth Tobacco nic salt juice. No rough edges with this one, it offers an incredibly smooth tobacco taste. Its flavor is inspired by small leaf tobacco giving you a refined, sophisticated vaping experience. Smooth Tobacco comes in a 60 ml bottle and its nicotine options are slightly different: choose between 3 or 6 ml. Additionally, the PG/VG blend is slightly different on this one, its ratio is 30% PG/70% VG. With this juice, you'll get the smooth taste and smooth vaper you desire.
Try All The Classic Nic Salt Juice Flavors

It's impossible to go wrong with menthol, mint, or tobacco nic salts. Alternatively, if you want to try something different, explore the over 100,000 flavor combinations available through VaporFi. You can create your own non-tobacco nicotine e-liquids and salts so that your vaping experience is always interesting, robust, and of the highest quality products.