E-Cigarettes Types: Minis, Vape Pens and Mods
Learn about the differences between the three main categories of electronic cigarettes and how to make your choice
Nowadays, e-cigarettes come in all shapes and sizes (and colors). It's hard to believe that less than a decade ago the only kind of "choice" a vapor smoker could make was which of the three flavor options he or she wanted to try....again.
Oh how the times have changed...
If you're new to vaping, or you are unsatisfied with your current device, finding the perfect setup these days can seem like one of the 12 Labours of Hercules. There are literally hundreds of different vendors and e-cigarette manufacturers to choose from. So how does one even start looking?
While your brand options may seem limitless, there are just three main categories of e-cigarettes to choose from: minis, mid-sized devices or mods. Selecting which type suits you best based on your personal preferences can greatly narrow down your search for the ideal setup.
Here's a quick rundown of each type:
Minis (AKA "Cigalikes")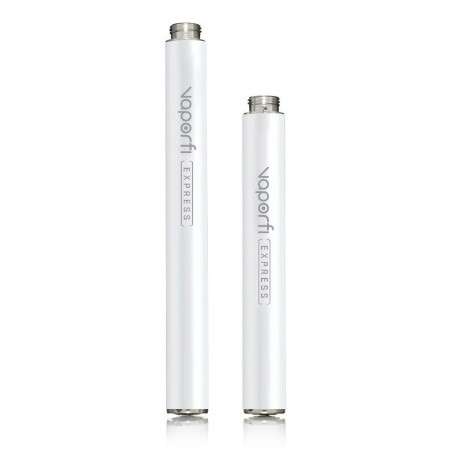 Sometimes referred to as "first generation" e-cigarettes, minis mimic the look and feel of smoking tobacco cigarettes – hence their other nickname, "cig-a-likes." For first time users, minis tend to provide the most desired experience and the most natural transition from cigarette smoking. These basic devices, available in both rechargeable and disposable models, also typically cost less to get started compared to other types; however, they lack when it comes to battery life, flavor options and customizability.
Although we primarily specialize in e-cigarettes for more advanced users, at VaporFi we do sell a mini cig-a-like for users who crave the traditional look and feel of taking a long, smooth drag on a cigarette. Our Express starter kit comes with a high-capacity rechargeable battery, wall charging adapter, USB charger and prefilled flavor cartridges.
If you like this type of e-cigarette but this particular model isn't quite what you're looking for, our sister company EverSmoke has a much larger selection of mini e-cigarette starter kits that you ought to check out.
Mid-Size E-Cigarettes & Vape Pens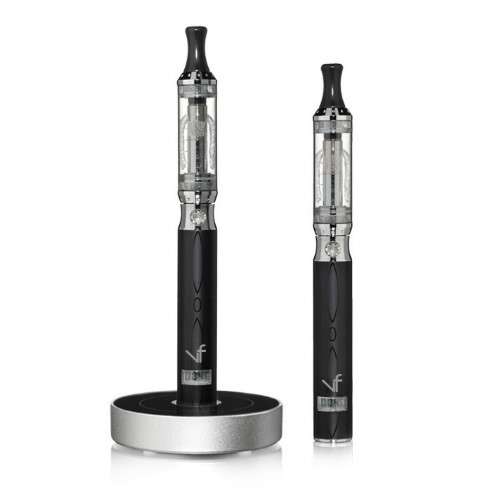 As e-cigarettes became more popular, a demand grew for devices that could offer longer battery life, larger e-juice capacity, stronger vapor production and increased control. This gave rise to the second generation of e-cigarettes, called mid-sized models or vape pens (for their pen-like appearance). Mid-sized e-cigarettes are slightly larger and heavier than the minis, but they tend to perform longer and better than their predecessors. Most vape pens are powered by a manual battery, meaning you have to press a button to activate the heating element.
At VaporFi, we design and sell mostly vape pens because we feel they provide the best blend of both comfort and capabilities. Our line of mid-size e-cigarettes offer greater customizability over vapor production and taste, allowing you to choose from over 30,000 custom e-juice flavors! They also tend to be the most cost effective of all the e-cigarette types.
Mods & APVs (Advanced Personal Vaporizers)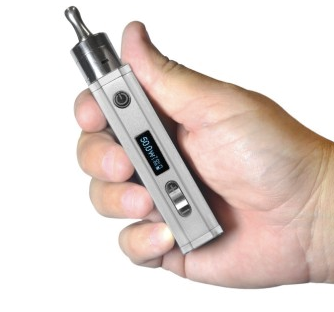 Finally, there are the APVs or Mods. These newest members of the e-cigarette family have only appeared in the last couple years as diehard hobbyists began searching for a device that could offer complete control over their vapor smoking experience. An APV often looks more like a flashlight (tubmod) or a metal box (boxmod) than an electronic smoking device. Their main attractions to advanced users is maximum vapor production, extended battery life and full customization, but they are also usually more expensive and require complex battery care.
VaporFi's VOX 50 MOD starter kit can provide everything you need to get setup with a fully adjustable, advanced e-cigarette that will take your vapor smoking experience to the next level. This powerful device is the pinnacle of e-cigarette technology, featuring adjustable output power, an LED digital screen, temperature protection, an auto Ohm Resistance Meter and loads of other controls that allow you to customize your smoking experience completely.
Build Your Own Custom Vaporizer!
Here at VaporFi, we've taken the idea of customization even further with our custom vaporizer builder. Through our Custom Kit Builder, you get to choose exactly how you want your setup to look, feel and perform. Choose from a smorgasbord of styles, colors, and features to create your perfect vape setup!
Visit us online to shop for any of the three types of e-cigarettes, get cool vaporizer gear and accessories, or build your own custom vaporizer from scratch.
Close
30-Day Money Back Guarantee
This policy is for online purchases via VaporFi.com. For the return policy on purchases made at a VaporFi store, please contact individual store. Whether or not you are the adventurous type, we never want to leave you feeling burned, so when you purchase any of our products, aside from e-liquids, keep calm knowing we have a 30-DAY MONEY BACK GUARANTEE. Don't be plagued by the "what-if's" if you want to try VaporFi products, just do it knowing you won't be forced to keep them if things don't work out.
After you purchase our products, should you find that anything fails to satisfy you work properly, or just does not meet the expectations you had, give us a call and we'll handle it.
We are very committed to serving our customers, so we back our products up 100%. We are so sure you will love them and enjoy vaping with them, we have no problems refunding if there's a problem.